Silicone Seal Combined with differeial material
Silicone Rubber seal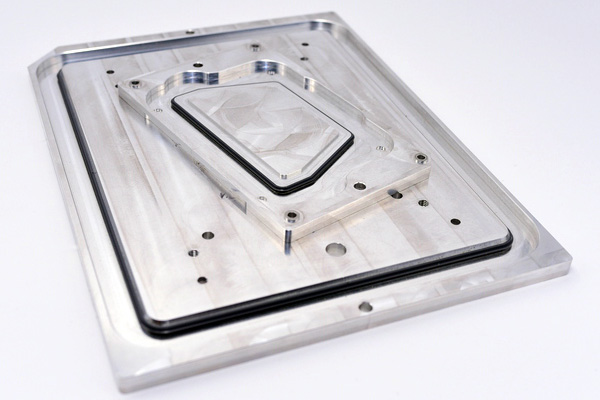 Jan Huei can customize various kinds of silicone seals combined with different materials, the size of seal are below 400mm. The molding method of silicone seals can be compression molding or injection molding. The purpose of silicone seals is to reduce surface friction and airtightness. The back cover is made up of silicone seal and the aluminum alloy plate. The molding method is solid silicone injection molding. In the mold design, the manufacturing process is improving by the method of burr-free.
Not only aluminum alloy materials, plastics, magnesium alloys, iron plates, and glass can combine with seals in a similar design.
Features
SHORE A 45°.
Material Characteristics: HTV, Heat-Resistance, Vibration Absorption
Material passed by RoHS (Restriction of Hazardous Substances Directive).
Specification
Molding: Injection Molding, Compression Molding
Size: Maximum Size 400mm
Color: Customized
Material: Aluminum Alloy (Magnesium Alloys, Iron) and Silicone
Effective Cases

Related Products

---

JanHuei is expert on LSR molding technology to produce the silicone seal. The silicone seal applied in glass panel can add waterproof function on it. The silicone rubber is combined with glass panel tightly by insert molding. It could be achieve anti-dust and waterproof effect. Considering the type of production, as the same structure, LSR injection molding could enhance production yield 50-80% than compression molding. It also could save the assembly cost and increase production capacity. Therefore, most customers start to choose this kind of production way to produce waterproof product.

---

---

The waterproof silicone ear-hook headphone is made by Jan Huei, which has size of 80mm x 40mm. The body of the earphone is plastic, which provides strong rigidity and protects the internal wires. The skin-friendly part is made of medical-grade silicone, which can make it waterproof and increase the wearing comfortableness. We can provide our professional technology to combine two different material such as silicone and plastic (PC).

---

---

Offering wide range of customer-specific requirements made of silicone components combined with metal such as steel, aluminum, brass and other metals. For example, crash pad uses silicone to protect the parts from impact damage, metal parts can avoid deformation. Our products with silicone metal bonding are heat and UV-resistant.

---

---