Service Flow
Customized Service
Jan Huei is a OEM silicone production factory. We can produce silicone products for customers worldwide. Our core technology injection molding technology and compression molding technology can be widely used in various products. The content of the service ranges from mold development, prototype making, semi-finished product processing, secondary processing, quality inspection, packaging, and shipping. At present, we have long-term cooperation experience with customers in the United States and Australia, we think our service is worthy of everyone's trust.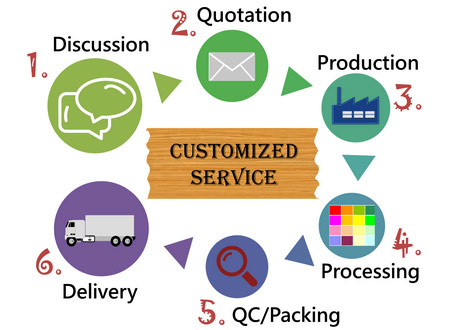 Jan Huei Customized process
Product Design Drawings
After the customer has a complete idea of the product and convert into 3D drawing, we can begin to discuss closely with the customer and assist in the design. We must clearly understand concepts and purpose of customer design in order to provide professional advice on material selection. For example, silicone products for industrial or sports applications usually requires high frequency of using or subject to external impact friction, so silicone needs to be elastic and abrasion resistant.
Mold Developing and Proofing
After the design of the drawing is confirmed, the test mold will be developed first, and a small amount of samples will be made for customers to confirm. Some customers want to skip the test mold developing because it only used for testing. We strongly recommend that the customer must develop the test mold for verification. This step is important for the customer; it can assist customers to understand characteristics and functionality of the product, which can save time and costs to adjust detail. We can provide test data for customers to verify the design such as tensile test, abrasion test. According to the complex of mold, the developing time of mass production molds is about 20 to 30 days. After the production of molds is completed, the first sample of production will provide to confirm for customers.
Processing
According to the product process, the semi product will process secondary process, such as deburring, printing, spraying, engraving, labeling, surface treatment and other items. After processed, product can increase the value of the product. For example, the silicone buttons are printed to highlight the functionality of each button. After laser engraving, assembly line could identify the product of silicone combined with metal, which had engraved the serial number or batch number.
Quality Control
The quality control person inspects all products in accordance with the specifications. Then, the quality assurance person double-checked whether the product was qualified with AQL sampling inspection standard. If the customer has testing requirements such as tensile test, abrasion test, etc., QA will provide an out-going quality control report when shipping.
Packaging & Shipping
If the customer does not have packaging specifications, the packaging staff will follow our packaging method. The packer will determine the quantity of each bag according to the structure of the product to prevent it from being squeezed and deformed for a long time. Depending on the size of product, packer will used different PE bags for packaging.

Jan Huei has 30 years of development experience in the combination of silicone and different materials such as silicone and plastic, silicone and rubber, silicone and metal, silicone and magnet, silicone and cloth, silicone and glass, silicone and FPC, silicone and wire, silicone and Energy powder and other materials. We can manufacture the silicone product that sizes within 450mm x 450mm.
Jan Huei pays attention to quality control of silicone rubber, and advice on materials, assistance in designing product structure, and supports customer product measurement and testing. Our inspection equipment includes life tester, RCA, electrostatic tester, tension machine, key load curve testing machine, hardness tester, ohmmeter and 2.5D projector instruction. We will displayed accurate quantify test data in the shipping report.

Jan Huei is not only a good partner for your production, but also the best team to assist you in integrating processes.
Download

---

You can recognize more characteristics of silicone rubber, and help you choose the suitable material to conform working situation.

---

---
In-House Liquid Silicone | Silicone Rubber | Silicone Metal manufacturer | Jan Huei
Located in Taiwan, Jan Huei K.H. Industry Co., Ltd., since 1988, is a silicone product manufacturer. Main product, including electronic components, mobile parts, mechanical parts, sporting parts, medical parts, industrial rubber feet, anti-shock dampers, compound (with plastic, metal, cloth, Teflon) rubbers.
RoHS, REACH, SDS, UL fire rating certified silicone products and parts with silicone injection molding and silicone compression molding technologies. Vacuum compression molding to produce silicone gasket, seal, grommet, silicone keypad or a small amount of silicone products, etc.
Jan Huei has been offering in-house high-quality liquid silicone, silicone rubber and silicon metal part, both with advanced technology and 30 years of experience, Jan Huei ensures each customer's demands are met.