Customized Silicone Wristband
silicone watch strap, silicone bracelet, silicone wristband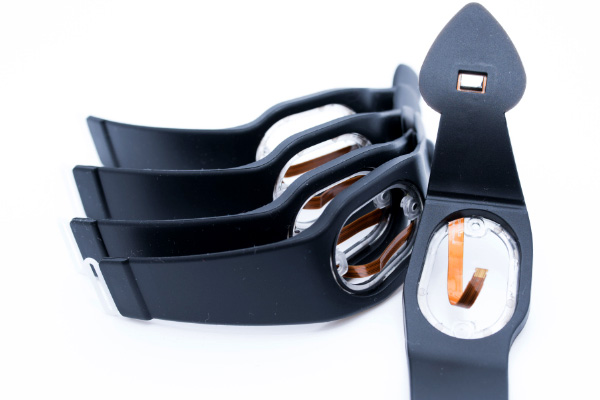 Customized silicone wristbands are soft, flexible, waterproof and abrasion-resistant. Jan Huei has partnered with a medical company that specializes in improving the wearing comfort of these wristbands. Their goal is to create a silicone wristband that provides maximum comfort and protection for customers.
So the custom-designed and developed new silicone straps comply with FDA regulations. We can help them develop molding technology and manufacture products that meet specifications. The silicone straps have not only anti-allergenic but also heat-resistant. According to the customer's demand, the material needed to be used either food-grade silicone or medical-grade silicone. Both of them have soft wearing uncomfortable and water resistance. In the meantime, the raw materials can pass RoHS & REACH regulations.

For composite silicone straps, the difficulty of the process lies in the combination of silicone with PC frame, POM buckle, FPC, and sensor in a molding. After molding, the surface of the sensor is exposed and without breaking. The sensor is located near the strap buckle. This silicone strap uses low-hardness medical-grade silicone, which is suitable for babies to wear and monitor their physiological status. We can customize and manufacture silicone products in a volume of at least 1K and provide stable quality control. If you are searching for silicone products and are interested in our technology, please contact us right away.
Features
Material: Medical Grade Silicone
Material Characteristics: HTV Silicone, Anti-Allergenic, Insulating, Heat Resistance
Material passed by RoHS (Restriction of Hazardous Substances Directive).
Waterproof Test.
FDA Certified.
Specification
Molding:Silicone Compression Molding
Size: Customized
Color: Customized
Material: Customized (PC, POM, Sensor and Silicone)
Effective Cases

Related Products

---

We professionally present silicone compression molding and silicone injection molding processes based on the drawings provided by our customers. For example, the minimum order quantity for each batch of customized silicone bracelets and silicone collars is 1,000 pcs. We will work together with you to achieve the goal of mass production of silicone bracelets or silicone collars, and at the same time ensure that the quality of your products is stable.In recent years, silicone has become popular in the market because of its environmental friendly characteristics, food grade silicone and medical grade silicone with material certification, and its elasticity and wear resistance. The characteristics of silicone make it an ideal choice for sporting goods, decorations, rehabilitation/healthcare products and even lifestyle products. For example, silicone bracelets are a popular accessory for event marketing and promotion. They are affordable and can be customized for printing, winning the hearts of many.

---

---

FAQ

Jan Huei is a professional silicone product manufacturer to customize product about silicone rubber. We are not retailer or dealer. We will provide appropriate suggestions of design based on the drawings, colors, sizes, and specifications provided by customers, and evaluate the process, time and quotation for customers. Jan Huei recommends that customers examine the sample from sample mold, and then confirm the first sample from production mold to ensure that it can shorten the production time and reduce the cost of mold repair. The mold developing time depends on the complexity, and generally takes 10 - 20 working days.

Read More