Silicone Diaphragm of Stethoscope
silicone diaphragm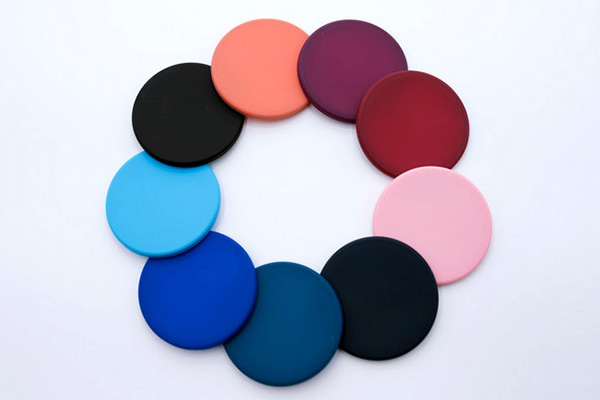 Jan Huei provide a wide variety of custom silicone products specifically for the medical industry. Not only meet or exceed our customer's specifications, we also can do some physical testing such as tensile testing. In this case, we developed silicone auscultation diaphragms less than 0.5mm due to the customer's requirements.
The material of diaphragm has emphasized the tensile strength of material need to strong enough. Therefore, it can maintain a stable shape after withstand a 4kg tensile test. This silicone diaphragm is produced by compression molding. Compression molding can satisfied the multi-color productions as customers' demanding. Our expertise in silicone manufacturing and years of experience can give the best solution to silicone product needs.
Why Choose Silicone Instead of Plastic?
Environmental awareness around the world is rising, people pay attention and use environmentally friendly material. Not only on daily necessities, but also on medical treatments, replacement parts must change to environmentally friendly materials. Such as stethoscopes, people originally used plastic auscultation diaphragms, but in view of the environmental damage caused by plastics, people began to replace plastic with silicone as diaphragm of the stethoscope.

In addition to meeting environmental protection requirements, silicone diaphragms have better air tightness and better sound transmission. The diaphragm of the stethoscope is medical-grade silicone, which has biocompatible, soft in texture and reduce allergy.
Features
Material: Medical Grade Silicone
Material Characteristics: Biocompatibility, Insulating, Heat Resistance, Skin-Friendly
Material Passed by RoHS (Restriction of Hazardous Substances Directive).
Specification
Molding: Compression Molding
Size: Diameter 40mm
Color: Customized.
Material: Medical Grade Silicone
Related Products

---

Silicone has characteristics of shock absorption and slip resistance. Silicone pads are widely used in electronic products, medical accessories, and household items. We are able to produce silicone pad sizes up to 300 x 300mm with thicknesses between 0.5 and 3.5T. According to the customer's needs, the surface of the silicone pads can be glossy or matte. The material can choose food grade silicone or medical grade silicone. It can also add single-sided adhesive or double-sided adhesive. The shapes of the silicone pad can cut by customized.

---

---

Partnered with a medical device company, Jan Huei can help customers produce medical silicone cover featured with elasticity and resilience. The silicone cover in the artificial ocular tonometer is designed with a special structure that could do pressure tests. The size of silicone cover is Φ 20mm x 20mm and it made of different kinds of silicone rubber that could afford different loading pressure. Moreover, this silicone cover is made of medical-grade silicone and has skin-friendly properties.

---

---