Conductive Silicone Rubber
Silicone Rubber Keypads, Conductive Silicone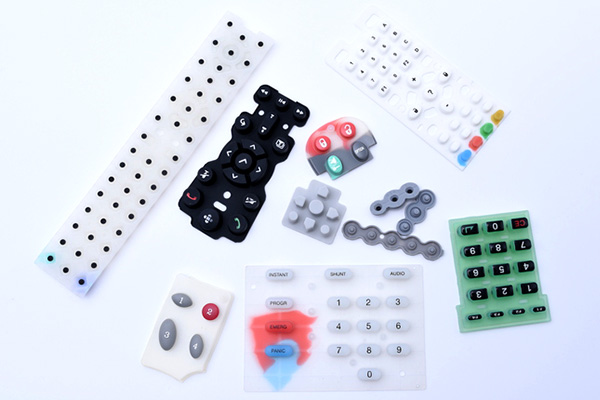 For custom silicone keyboards, the characteristics of different conductive silicone rubbers and the mechanism of the structure can be adjusted, such as the loading strength, which is the force required to press. Silicone has high elasticity and resilience and is the preferred material for keypads. For users, the load is the response of the keyboard when pressed. At the time of sampling and production, Jan-Hui can provide a load test, a membrane keypad test, and a life test, as well as provide relevant production experience.
Conductive silicone keypads have been widely used since the 19th century. Early cell phone buttons, camera buttons, TV remote control buttons, credit card machine buttons, and even automotive remote control buttons all used conductive silicone buttons. In addition to popular home remotes, conductive silicone keypads are also used in ships and airplanes as remote control accessories.

Despite the popularity of touch screens today, conductive silicone keypads are still easily adaptable in harsh environments, providing a convenient operating experience. Therefore, conductive silicone buttons are irreplaceable in certain environments.
Features
Material Characteristics: Elasticity and Recovery
Material passed by RoHS (Restriction of Hazardous Substances Directive).
Specification
Molding: Silicone Compression Molding, Silicone Injection Molding
Size: Customized
Color: Customized
Material: Silicone
Effective Cases

Related Products

---

Explore our customization expertise in combining medical silicone with exotic materials. We present a case study that focuses on the specific needs of the medical grade industry. Our customer needed a reliable partner that could provide customized silicone keypads for use in medical equipment. Our technology stands out in this field, not only in terms of skills, but also in terms of the process environment, so our customers trust our expertise.This special silicone keypads combine the advantages of magnesium alloys or glass fibers, reinforced plastics and medical grade silicone. We understand the characteristics of silicone and have chosen a biocompatible silicone material to provide a higher level of safety for medical products. This medical silicone keypad has curved surfaces and protrusions on the back side, and we overcame many challenges during the mold design stage to ensure that the silicone bonded perfectly with the mating parts without any spillage problems.

---

---