Conductive Silicone Rubber
Silicone Rubber Keypads, Conductive Silicone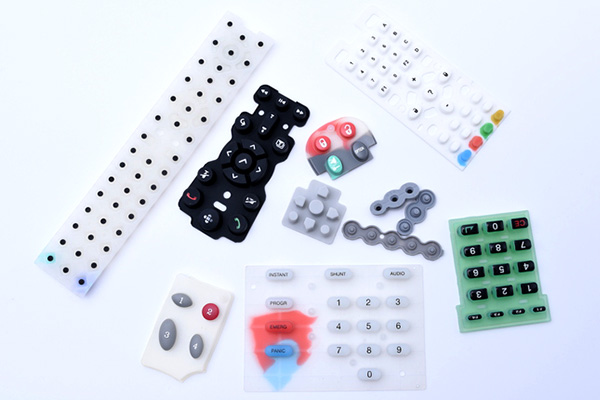 Silicone has great elasticity and recovery; it is the preferred material for keypads. For each type of keypad, it can adjust characteristics from different silicones and mechanism of structure such as loading strength, which is the force required to press. For the user, the load is the feedback of the keypad after pressing the keypad. At the time of sample and production, Jan-Hui can provide load test, membrane keyboard test and life test, as well as provide relevant production experience.
Since the 19th century, people used conductive silicone keypads extensively. For example, the earliest mobile phones, cameras, TV remote controls, card readers, or car remote controls all require conductive silicone keypads to control the device. In addition, the equipment on the ship or on the aircraft also needs a conductive silicone button as a remote control accessory to control the function.

Even if the touch screen is popular today, in the harsher environment, keypad is easy to touch the screen, so the silicone keypad is still irreplaceable.
Features
Material Characteristics: Elasticity and Recovery
Material passed by RoHS (Restriction of Hazardous Substances Directive).
Specification
Molding: Compression Molding, Injection Molding
Size: Customized
Color: Customized
Material: Silicone
Effective Cases

Related Products

---

Jan Huei can customize medical silicone keypads and have ability of combine silicone and different materials. This silicone keypad is our medical industry customer. They want to find the supplier that skilled in silicone molding technology and produce the silicone keypad using in the medical equipment. Jan Huei can provide the molding technology and conform the environment of process, so the customer want to cooperate to us.

---

---