Medical Silicone Keypad
Silicone Keypad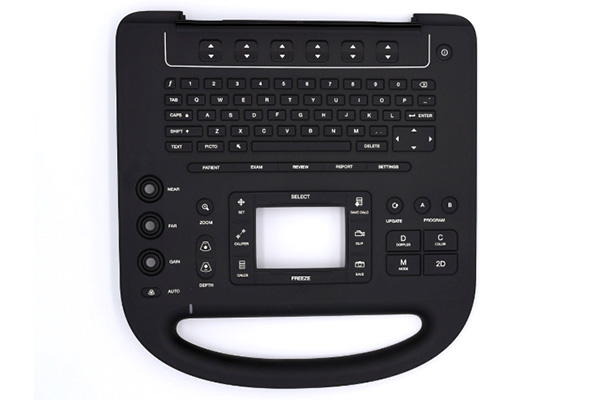 Jan Huei can customize medical silicone keypads and have ability of combine silicone and different materials. This silicone keypad is our medical industry customer. They want to find the supplier that skilled in silicone molding technology and produce the silicone keypad using in the medical equipment. Jan Huei can provide the molding technology and conform the environment of process, so the customer want to cooperate to us.
The silicone keypad is combination of magnesium alloy / glassfiber reinforced plastics and medical grade silicone, which is biocompatible and used in medical equipment. The size of keypad is 350mm x 300mm x 50mm. In terms of molds, we need to consider the curved surface and protrusion design of the mating parts in order to design a mold that perfectly integrates silicone and mating parts without excessive glue.

After molding, the surface of the silicone keypad got PU coating and laser engraved to make the keypad transparent and protective. This keyboard is exported to Europe and the United States.
Silicone keypads are used to various fields, such as medical, shipping, and aerospace. Silicone is suitable for temperatures ranging from -40°C to 250°C. It has better weather resistance and can withstand harsh environments. Therefore, silicone keypads are still the main choice in specific environments.
Features
Material: Medical Grade Silicone
Characteristics: Anti-allergenic, Insulating, Heat Resistance
Material passed by RoHS (Restriction of Hazardous Substances Directive).
Specification
Molding: Compression Molding
Size: Customized
Color: Customized
Material: Magnesium Alloy and Silicone or Plastics and silicone
Surface: PU Coating (Avoid printing come off)
Related Products

---

Silicone has great elasticity and recovery; it is the preferred material for keypads. For each type of keypad, it can adjust characteristics from different silicones and mechanism of structure such as loading strength, which is the force required to press. For the user, the load is the feedback of the keypad after pressing the keypad. At the time of sample and production, Jan-Hui can provide load test, membrane keyboard test and life test, as well as provide relevant production experience.

---

---