Silicone Rubber Combined with Metal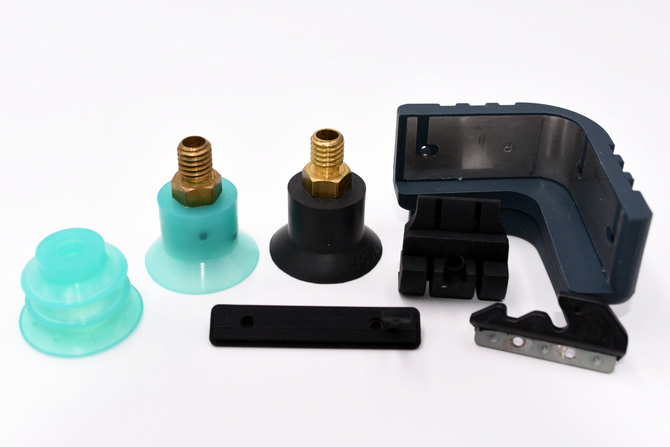 Offering wide range of customer-specific requirements made of silicone components combined with metal such as steel, aluminum, brass and other metals. For example, crash pad uses silicone to protect the parts from impact damage, metal parts can avoid deformation. Our products with silicone metal bonding are heat and UV-resistant.
For example is a vacuum silicone suction cup, silicone combined with copper pillars tightly can make suction cup have good air tightness.

Other products like dust cover for machines, silicone rubber combined with iron, has both hardness and good air tightness. Either symmetrical or non-symmetrical design, we have extensive experience in production when silicone and metal molded without damaging the metal.
Features
Silicone can increase the usability of metal accessories.
Silicone can beautify the metal and increase the texture.
Protect metal parts from damage.
Specification
Molding: Compression Molding, Injection Molding
Size: Customized
Color: Customized
Material: Silicone, Metal
Effective Cases

Related Products

---

With professional compression technology and customized capabilities, Jan huei is committed to providing customers with a combination of different materials (stainless steel and silicone). This case is for customers looking for a manufacturer that can manufacture silicone-coated stainless steel technology to make silicone mobile phone holder. By this case, the mold needs special development conditions, and the technology is complicated and the finished product needs to comply with RoHS specifications, the customer trust us and cooperate with us.

---

---

FPC as the transmission medium could enhance the transmission rate to the USB. The material combined with USB is changed from hard plastic to soft silicone in recently. The FPC, combined with silicone, can be bend moderately and it can be housed in the groove space of the hardware. These changes increase the convenience of using USB.

---

---