Customized Silicone Wristband
silicone watch strap, silicone bracelet, silicone wristband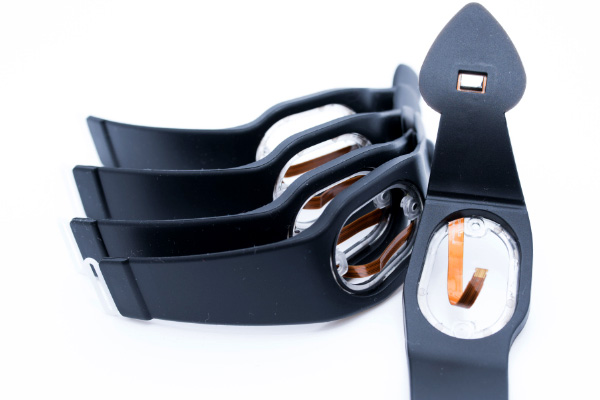 Jan Huei has been cooperated with a medical company who aims to improve wearing comfort for baby wristband. The final product is intended to be soft, flexible, waterproof and abrasion-resistant.
So the customer designed and developed new silicone straps that comply with FDA regulations. We can help them develop molding technology and manufacture products that meet specifications. The silicone straps has not only anti-allergenic but also heat resistance. According to the customer's demanding, the material needed to be used either food-grade silicone or medical-grade silicone. Both of them have soft wearing comfortableness and water resistance. In the meantime, the raw materials can pass RoHS & REACH regulations.

For composite silicone straps, the difficulty of the process lies in the combination of silicone with PC frame, POM buckle, FPC and sensor in a molding. After molding, the surface of sensor is exposed and without broken. The sensor is located near the strap buckle. This silicone strap uses low-hardness medical grade silicone, which is suitable for babies to wear and monitor their physiological status. We can customize and manufacture silicone products in the volume at least 1K and provide the stable quality control. If you are searching silicone product and interested in our technology, please contact us right away.
Features
Material: Medical Grade Silicone
Material Characteristics: HTV Silicone, Anti-Allergenic, Insulating, Heat Resistance
Material passed by RoHS (Restriction of Hazardous Substances Directive).
Waterproof Test.
FDA Certified.
Specification
Molding: Compression Molding
Size: Customized
Color: Customized
Material: Customized (PC, POM, Sensor and Silicone)
Effective Cases

Related Products

---

According to the drawing, Jan Hui will suggest a suitable molding method is compression molding or injection molding for customer. We can customized manufacture products in the volume at least 1K and provide the stably quality control. Because silicone is an environmentally friendly material, it has elasticity and abrasion resistance, and the material has food-grade silicone and medical-grade silicone certification, which become popular material of production. Therefore, customized silicone accessories are mostly used in sports parts, decorations, rehabilitation / health care products and daily necessities.

---

---

FAQ

Jan Huei is a professional silicone product manufacturer to customize product about silicone rubber. We are not retailer or dealer. We will provide appropriate suggestions of design based on the drawings, colors, sizes, and specifications provided by customers, and evaluate the process, time and quotation for customers. Jan Huei recommends that customers examine the sample from sample mold, and then confirm the first sample from production mold to ensure that it can shorten the production time and reduce the cost of mold repair. The mold developing time depends on the complexity, and generally takes 10 - 20 working days.

Read More