Silicone Combined with Plastics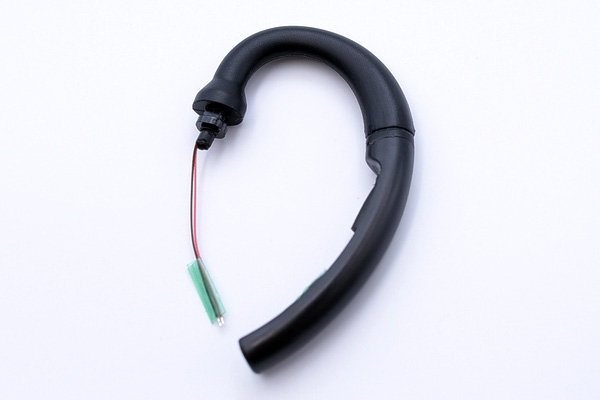 The waterproof silicone ear-hook headphone is made by Jan Huei, which has size of 80mm x 40mm. The body of the earphone is plastic, which provides strong rigidity and protects the internal wires. The skin-friendly part is made of medical-grade silicone, which can make it waterproof and increase the wearing comfortableness. We can provide our professional technology to combine two different material such as silicone and plastic (PC).
Traditional non-adhesive silicone accessories are anti-shock and dust-proof. Nowadays, most customers prefer multi-functional composite products. Therefore, the monotonous design style has been changed to composite silicone products to reach more functions like IP waterproof and dustproof. In this regard, Jan Huei has production experience, and we can provide a minimum size of 0.5mm for the combination of silicone and different material.

This waterproof phone case is designed to achieve IP68 waterproof and dustproof features, make it easy to use in variety of environments. Jan Huei can manufacture the silicone seal by OEM. Silicone has better aging resistance and weather resistance than TPR / TPU, so customers usually choose silicone as a sealing. This case is using injection molding to bond with the plastic shell.
Features
SHORE A 45°.
Material Characteristics: HTV, Heat-Resistance, Vibration Absorption
Material passed by RoHS (Restriction of Hazardous Substances Directive).
Specification
Molding: Injection Molding, Compression Molding
Size: Maximum Size 400mm
Color: Customized
Material: Plastics and Silicone
Effective Cases

Related Products

---

According to the product function, different material parts combined with silicone rubber to produce various style handles. The length of the Jan Huei customized handle is about 100mm to 300mm, and the largest size we can customize is about 400mm. Silicone has elasticity, which can not only reduce the discomfort of lifting, but also increase the strength of the handle. Through special production method, we can enclose soft or hard materials in the silicon handle, which is why Jan Huei has won the trust of customers.

---

---